"Drive for 5" to benefit Harvest Hope Food Bank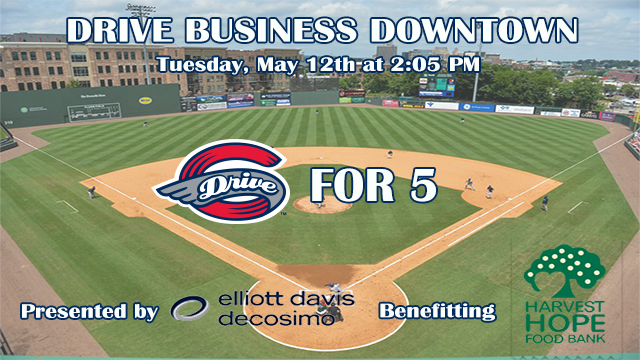 On Tuesday, May 12th, the Greenville Drive will celebrate the 5th annual Drive Business Downtown Day presented by Elliott Davis Decosimo at Fluor Field. First pitch for the Drive's game against the Hagerstown Suns is scheduled for 2:05 PM.
Drive Business Downtown is a celebration in and about the heart of Greenville. Attendees will be able to enjoy the game with co-workers, network with downtown business associates, entertain clients and prospects and watch company execs in on-field games.
Harvest Hope Food Bank will once again serve as this year's Drive Business Downtown charity, and in honor of this being the 5th Drive Business Downtown game, the Drive are encouraging all fans to "Drive for 5" by bringing 5 canned goods or $5 to donate to Harvest Hope.
Following the Drive game, there's more baseball to come at Fluor Field, as the BB&T College Baseball Series concludes with the Clemson Tigers squaring off against the Furman Paladins at 7:00 PM. Separate tickets will be required for the Clemson-Furman game.
For more information about the Drive Business Downtown game, call (864) 240-4500. Go Drive!
This article originally appeared on the official website of the Greenville Drive. Click here to view the original story.