Here is a link to the original story on the team's website.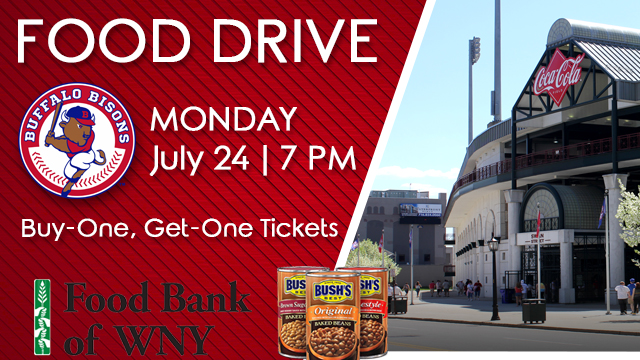 Fans, did you know July is National Baked Beans month? As part of National Baked Beans Month, the Bisons are teaming up with Bush's Beans and the Food Bank of Western New York to help strike out hunger.
Prior to the Herd's game against the Durham Bulls on Monday, July 24 (7:05 p.m.), the Bisons will be holding a Food Drive to help feed those in need in the local community.
Fans can bring their non-perishable food items to the collection bins located outside of the Coca-Cola Field Ticket Office. In return for their much-needed donations, fans will be given a coupon for Buy-One, Get-One Free Ticket coupon for Monday's game between the Bisons and the Bulls!
The Food Bank of Western New York was founded in 1979, after a group of religious and community leaders came together to develop an effective and comprehensive way to fight hunger in the region. Today, they assist as many as 129,000 individuals in a month through our 329 member agencies, including food pantries, soup kitchens, shelters, youth programs, group homes and senior centers.
This story was not subject to the approval of the National Association of Professional Baseball Leagues or its clubs.