Hooks Salute to the Military Night June 27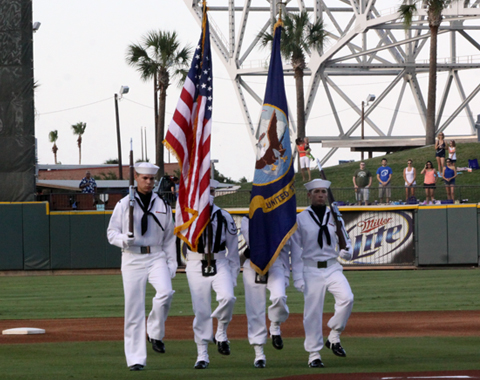 CORPUS CHRISTI – For 10 years, the Peace Tree Project of South Texas has been providing Community Embraces and planting live trees in honor of South Texas' fallen service members.
On Thursday, June 27, the organization will be honored by the Corpus Christi Hooks as Salute to the Military Night unfolds at Whataburger Field. On that evening in pregame ceremonies, the Peace Tree Project retires its shovels and fans raise a prayer and a wish for the safe return of all service members in 2014.
"The men and women in our Armed Forces and their families demonstrate sacrificial love for our nation each and every day," Hooks VP/general manager Michael Wood said. "It's important for us to show our appreciation to them and the Peace Tree Project. 'Raising A Prayer and A Wish' enables all of us to come together as a community and recognize true patriots."
"If your loved one answered the highest calling of service to our country by giving his or her life in Iraq or Afghanistan, we want to hear from you," Peace Tree Project founder Norma Jean Sierra said. Sierra added that submitted names and photographs will be displayed on the Whataburger Field video board.
Contact Sierra at peacetreeprojectstx@yahoo.com or call 361-906-5704.
The Hooks are offering special reserved-seat ticket pricing on the 27th for active duty military and all who've honorably served, plus their immediate family members. Corpus Christi entertains the Springfield Cardinals that night at 7:05 and gates open at 5:30.
To purchase $6 half-priced tickets, contact the ticket office at 361-561-HOOK (4655). For groups of 20+, call Andy Steavens at 361-561-4677 or asteavens@cchooks.com
This article originally appeared on the official website of the Corpus Christi Hooks. Click here to view the original story.