Foundation to award $30,000 in scholarships to N.H., Mass. students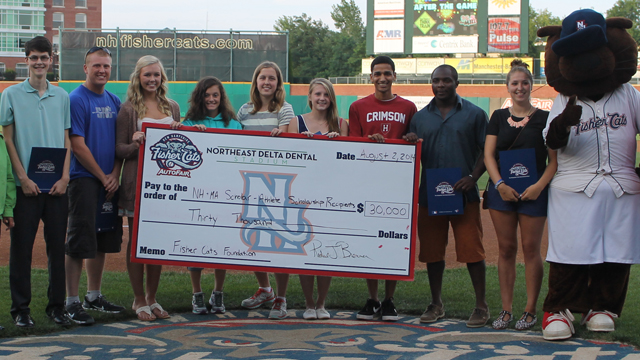 The New Hampshire Fisher Cats and the Fisher Cats Foundation have announced the application process is now open for the 2015 Fisher Cats Foundation Scholar-Athlete Scholarships. The Foundation will award 12 scholarships to outstanding scholar-athletes from New Hampshire and Massachusetts who demonstrate academic excellence, significant athletic achievement, and active civic involvement. Each award is $2,500 and includes recognition at a Fisher Cats game during the 2015 season.
Applications are available simply by visiting the Fisher Cats' website, www.nhfishercats.com, and clicking the heading COMMUNITY. Students can also find the application by clicking SCHOLARSHIP REGISTRATION at www.NHScholars.org.
Applications are due by 5 p.m. on April 30, 2015. A letter of recommendation from the applicant's coach, FAFSA documentation, and the student's high school transcript in an electronic format must be uploaded with the application.  All applicants will be evaluated on academic performance, athletic achievement, and citizenship.
Candidates for the Fisher Cats Foundation Scholar-Athlete Scholarships must be residents of New Hampshire or Massachusetts who are graduating from high school in 2015. Candidates must be planning to enroll in a four-year degree program or planning to attend a local community college or technical school in the fall. Candidates do not need to be studying in any particular field.
Three of the scholarships have additional significance. The Chris Carpenter Award is named after New Hampshire native and National League Cy Young Award-winning pitcher, Chris Carpenter. The Swymer Family Scholarship is presented annually to a student who has overcome a barrier on the way to attending college. The Easter Seals Veterans Count Scholarship goes to a student whose parent or guardian is an active, reserve, or veteran member of the United States military.
In 2015, the Fisher Cats Foundation will award a total of $30,000 in scholarships with $5,000 of that amount earmarked to a pair of scholarships for Massachusetts students. Through 2014, the Fisher Cats have presented $230,000 in scholarships to graduating seniors since 2007.
This article originally appeared on the official website of the New Hampshire Fisher Cats. Click here to view the original story.