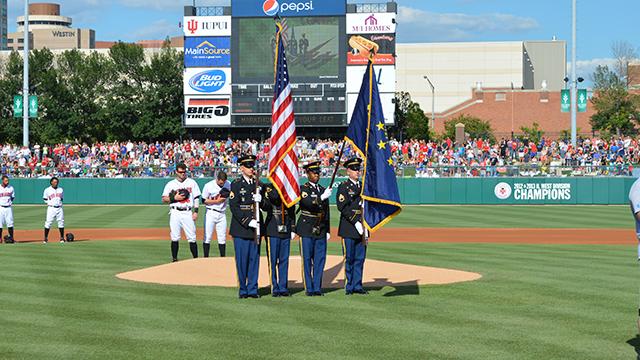 On May 16, Armed Forces Day, fans in attendance for the Indianapolis Indians vs. Norfolk Tides baseball game, will be treated to several unique experiences including Tribe players donning camouflage jerseys, a postgame fireworks show, and the opportunity to support advance education opportunities for Indiana National Guard members.
Using Qtego Auction Technology and via one's mobile phone, Indians fans will be able to bid on the jerseys worn by the players and coaches via a special auction. Proceeds will help fund WGU Indiana scholarships for Indiana National Guard members.
Once registered, Qtego's service instantly informs participants of the current high bid on an item of interest or notifies they have been outbid.
"This is a fun, unique way for all Indians fans everywhere, both at Victory Field or not, to connect with our players while supporting education opportunities for Hoosier soldiers," said Indians Senior Marketing and Communications Manager Jon Glesing.
Once fans arrive on Saturday, they may register their mobile phone at the Qtego display in Victory Field's PNC Plaza, or online at IndyIndians.com in advance. Once registered, one can participate in the auction immediately. Information, including the list of Indians players and coaches whose jerseys will be up for auction, will be posted on the team's blog prior to the start of the game. Victory Field gates open at 5 p.m. with first pitch at 7:05 p.m.
Armed Forces Day is a national day of observance in the United States on the third Saturday of May each year. Indiana currently has 16,000 active duty National Guard members. Recognition for their service on Saturday will continue after the game with a special fireworks show courtesy of the Indiana National Guard and WGU Indiana.
"This is a day to honor those who have made the ultimate sacrifice for their country," Brigadier General Corey Carr said. "We honor the Soldiers, Sailors, Marines and Airmen who have given their lives for the cause of freedom and American ideals. The Indiana National Guard is grateful to Hoosiers and Americans everywhere for their continued support over the past decade of war and for taking the time to honor Indiana's fallen heroes this Armed Forces Day. We recognize and appreciate the patriotism and support of the Indianapolis Indians and WGU Indiana as they wear ACU (Army Combat Uniform) jerseys to raise scholarship funds for Hoosier Soldiers and their families."
"With more than 200 veteran students and alumni, we're happy to partner with the Indiana National Guard in the Indianapolis Indians Armed Forces Day game sponsorship," WGU Indiana Chancellor Allison Barber said. "We not only praise the many sacrifices of our veterans, but also support them in their efforts to pursue their degree through scholarships and our online, competency-based model that fits their busy lifestyles."
Tickets to Indianapolis Indians games are available through IndyIndians.com, the Victory Field Box Office or by calling (317) 269-2282. Box office hours are Monday-Friday from 9 a.m. to 6 p.m. and in the Hot Corner Gift Shop Saturdays from 10 a.m. to 4 p.m. Fans save $2 when they purchase at least a day in advance.
About the Indiana National Guard
The Indiana National Guard is a joint-force organization. The Indiana Army and Air National Guard are reserve components of the U.S. Army and U.S. Air Force. During times of national emergency, National Guard members may be called into active federal service by the President of the United States. During peace times, the National Guard assists local law enforcement agencies during emergencies at the direction of the governor. The distribution of soldiers, equipment and facilities across the state allows the National Guard to respond quickly and efficiently to emergencies statewide.
About WGU Indiana
WGU Indiana is an online, competency-based university designed to expand access to higher education for Indiana residents. Established by the state of Indiana in partnership with Western Governors University, WGU Indiana is designed to serve the needs of Indiana citizens. WGU Indiana offers more than 50 accredited bachelor's and master's degrees in high-demand career fields.
This article originally appeared on the official website of the Indianapolis Indians. Click here to view the original story.