Here is a link to the original story on the team's website.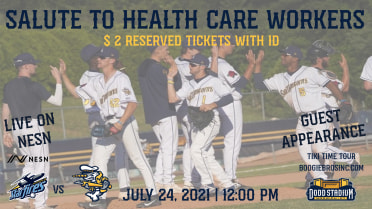 (Norwich, CT) – The Norwich Sea Unicorns are hosting "Salute to Health Care Workers" Saturday, July 24 at 12 pm when they take on the Westfield Starfires in a game that will air live on NESN. Tickets for all health care workers and their families are $2 with a valid health care employee ID.
"We are happy to recognize the health care workers in our community who give so much of themselves every day, but especially throughout the pandemic when they have helped lead all of us through such a difficult period," said Dave Schermerhorn, General Manager of the Norwich Sea Unicorns. "Health care professionals work tirelessly and selflessly every day, so we hope these heroes of our community can enjoy a well-deserved day at the ballpark where we can recognize them and show our appreciation for all they do for so many."
The game will air live on NESN at the special noon start time. The broadcast is part of the four-game "Future's Saturdays on NESN" television slate in which all eight FCBL teams are featured throughout the month of July.
"Being able to broadcast this game on NESN allows us to extend our message of gratitude and appreciation to health care workers throughout New England," said Schermerhorn. "It also is a great opportunity for us to showcase Norwich Sea Unicorns Baseball and the unique gameday atmosphere at Dodd Stadium to baseball fans throughout all six New England states."
Health care workers who would like to purchase tickets at the special rate of $2 with their health care employee ID may do so by calling the Norwich Sea Unicorns Box Office at (860) 887-7962 between 9:00 am – 5:00 pm or in person at the Norwich Sea Unicorns Box Office on game day.