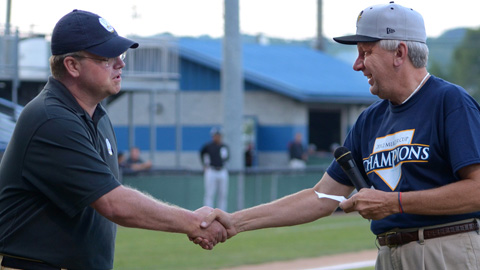 The numerous successes enjoyed by the Princeton Rays in 2012 many times extended beyond the foul lines due to a heavy involvement by the team in events that lead to a better community and surrounding region.
"It's very important to our organization to use our avenue of baseball to be a charity partner in the region when possible. We also want to help develop our players in this aspect of their professional baseball careers," shared P-Rays' General Manager Jim Holland in reviewing the season just completed.
The P-Rays, in addition to providing Hunnicutt Field as a venue for canned food drive events at two separate home games this past season, had over half the team participate in a unique related project this past summer.
August 9 and 10 saw 16 P-Rays' players spread out over two mornings to four different locations of the area's Grant's Supermarket stores to bag groceries for customers. The players, who wore their jersey tops for the event, encouraged customers entering the stores to buy extra canned food items for those in need. As the players bagged groceries, the extra cans purchased were collected and placed in a donation area to be contributed to Tender Mercies Food Pantry.
Upon the event's conclusion, Tender Mercies reported that the overall two-day donation was the largest they had received to date in 2012. Taking it a step further, upon completion of their shift, several Princeton players went back into the store and additionally purchased groceries to be donated toward the cause.
"The event we conducted with Grant's was really very meaningful to all of us. It's one of the more unique things we have done in a while and we are very much looking forward to being involved with Grant's next year and raising those numbers more," said Holland.
The season just concluded marked the third time in the last four seasons that the team wore specialty hats on a targeted game date to be auctioned for a specific charity.
After suffering a rain-out on the originally scheduled date of July 14, the game of August 11 served as a successful evening for "Coal Heritage Night." During this game, the P-Rays' were able to raise $1,372.00 via a game cap auction that was donated to "Remember The Miners," a non-profit organization formed to spread awareness about the importance of the coal mining industry and create scholarships for deserving students.
The Princeton squad during that game wore very attractive P-Rays' logo caps designed in coal colors of black and gray. As the game progressed, all players and coaches hats were being made available to everyone in attendance (and even some fans nationwide bidding by phone) via silent auction. Following the game, each winning bidder in attendance was brought on the field to receive their game-worn cap personally from each player and coach, who in turn autographed the cap for the recipient.
Twelve days later, at the August 23 home game, all in attendance were treated to an appearance from "Remember the Miners" co-founder Jason Solomonson, who drove from Charlotte, NC to receive the check on behalf of the organization in an on-field ceremony.
"Remember the Miners is obviously a very important charity to anyone that lives in this region as we especially know the effort miners put forth to power this country through the mining of coal. It is a vital industry and we were honored to be involved. We also want to include a thank you to The Shoppes at Willow Crossing for purchasing the hats to be used. The folks at Fairchild International also made it a very special night and we had several interns that worked hard to make it an evening to remember with a coal theme," commented Holland.
The list of places that P-Rays' players showed up this past summer was endless, stretching from appearances at the summer "Energy Express Reading Program" at Mercer School to being ambassadors at the "2012 State Junior League Baseball Championship Tournament" hosted by the Greater Princeton Little League at nearby Gardner Field.
They visited with the young at the Princeton Recreation Center's Day Camp to the young at heart at Princeton Health Care Center as part of an outdoor luncheon for the residents on a beautiful August afternoon.
And, even further beyond the P-Rays' player roster, the organization conducted many other events at home games during 2012 highlighting awareness for many other charitable endeavors. This included hosting groups such as firefighters, police officers, EMS workers, active and retired military personnel, members of scouting as well as children from daycare centers. Princeton Baseball Association, Inc also worked in 2012 with the Jonathan Powell Hope Foundation (awareness and prevention of pediatric cancer), Second Chance Learning Center, and Ed Randall's Bat For the Cure, an official charity partner of Minor League Baseball that targets the awareness and prevention of prostate cancer.
As the area's focus now turns to thoughts of next summer's Appalachian League season, be on the lookout for the 2013 edition of the Princeton Rays to materialize at a community function near you.
To get more immediate and breaking information year-round on Princeton Rays Professional Baseball as it occurs, do not forget that the P-Rays are now on Facebook. Be sure to check out and "like" our Facebook section on our website at www.princetonrays.net. Don't miss your opportunity to sign up for this free service! ANOTHER FREE OPPORTUNITY for you to keep up with your P-Rays is to follow the team on "Twitter" at @princetonrays or by accessing www.twitter.com/princetonrays.
This article originally appeared on the official website of the Princeton Rays. Click here to view the original story.