Here is a link to the original story on the team's website.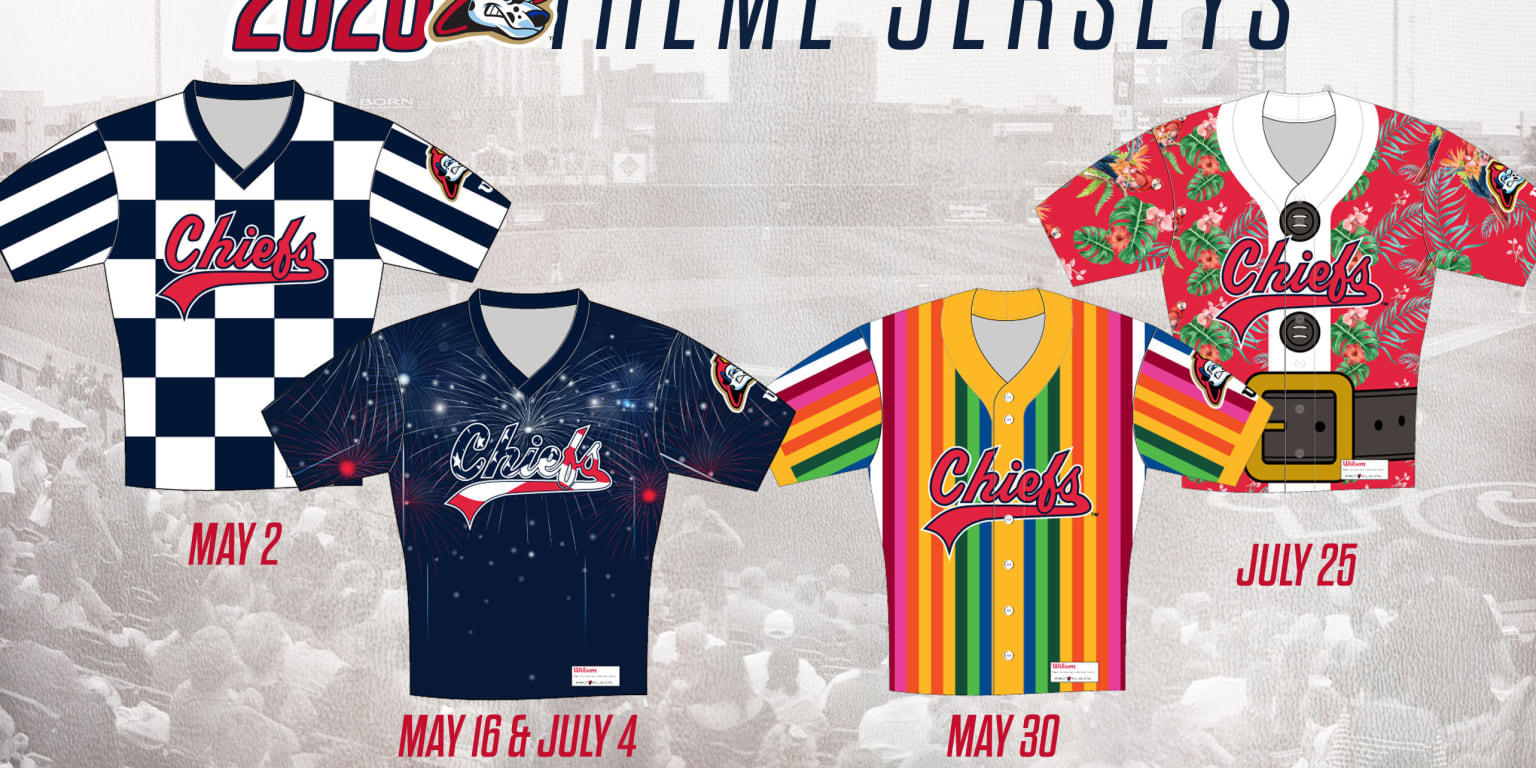 PEORIA, IL – The Peoria Chiefs have announced their specialty jerseys for the 2020 campaign. The En El Rio themed jerseys will be worn on May 15, June 19, July 26, August 9 and September 4 and will be available for auction following the September 4 home game. These jerseys will be worn in conjunction with Minor League Baseball's COPA initiative and will be revealed in early March along with the En El Rio hats from New Era.
In addition to the En El Rio and the usual Sunday baby blue throwback jerseys, the Chiefs have announced four other specialty jerseys this season. All dates are subject to change.
Saturday, May 2 is Kentucky Derby Night and the Chiefs will wear a Derby-themed jersey. The jersey features a checkerboard design, consistent with the traditional apparel of a horse jockey.
Armed Forces Night is Saturday, May 16 and the Chiefs will wear their stars and stripes jersey to commemorate the night. The navy blue top features a red, white and blue Chiefs script across the chest with fireworks also prominent on the jersey. The Chiefs will wear these jerseys again on July 4 and will be auctioned off following the game.
The Chiefs will celebrate 80's Night on Saturday, May 30 by wearing a Caddyshack-themed jersey. The look was inspired by Rodney Dangerfield, who wore a rainbow sweater in the 1980 film.
On Saturday, July 25, the Chiefs will wear a Christmas in July jersey. The jersey combines a Santa Claus suit with a Hawaiian shirt for the Chiefs annual Margaritaville Night celebrations.
The Chiefs will again use Gesture in 2020 for all jersey auctions. Fans can access Chiefs.Gesture.com to sign up for an account or text CHIEFS to 52182 to register. Fans can track auctions and make bids from anywhere via their smartphone, tablet or PC and do not have to be at Dozer Park to win or pay for their jersey. All proceeds from this year's auctions will benefit local charities. If your group is interested in sponsoring any of our specialty jerseys, please contact Ben Garrod, Director of Corporate Partnerships, at (309) 680-4013 or [email protected]
Chiefs Season & Group Tickets
Season ticket packages and group tickets for the 2020 season are currently on sale by calling 309-680-4000. The 2020 season kicks off April 9 in Davenport, Iowa with the home opener against the Beloit Snappers set for Monday, April 13 at 6:35 p.m. Individual game tickets will go on sale in early March. Fans can keep up with all Chiefs news during the offseason online at www.peoriachiefs.com and on Twitter or Instagram: @PeoriaChiefs.