Here is a link to the original story on the team's website.
The Wisconsin Timber Rattlers continue Minor League Baseball's celebration of Black History Month with Tom Gordon's seventeen starts as an Appleton Fox and his quick rise to the Major Leagues in 1988.
Before Tom Gordon spent 21 seasons in the Major Leagues, he spent three months in Appleton, Wisconsin. Gordon was twenty years old with the Appleton Foxes in 1988 and racked up strikeout numbers and amazing starts in seventeen games that most players don't reach over an entire season.
Gordon entered his season in the Midwest League with a lot of hype. His 1987 season with Eugene in the Northwest was incredible with a 9-0 record, a 2.86 ERA, and 91 strikeouts in 72-1/3 innings pitched over fifteen games. Plus, he added three starts in the Florida State League with Fort Myers with a 1-0 record.
Brian Poldberg, the manager of the Foxes in 1988, named Gordon as his Opening Day starter for a game on April 8 at Wausau Athletic Park against the Wausau Timbers. Gordon pitched four scoreless innings, allowed three hits, walked two, and struck out seven. The article in the paper noted that Gordon pitched his way out of a bases-loaded, no-out jam in the bottom of the fourth.
Gordon's next start was on April 13 and it was his first Goodland Field appearance. This time out, Gordon allowed on hit, walked one, and struck out eleven over five scoreless innings. He even recorded four strikeouts in one inning. Gordon left after reaching his 85-pitch limit and had a no decision in Appleton's 1-0 victory.
"I didn't feel as loose as I did in my first start, but I had pretty good stuff," Gordon told Gary Shriver of The Post-Crescent after the game. "I was using fastball, change. I did tighten up some at the end."
The Foxes failed to score in Gordon's next two starts: A 5-0 loss at Springfield on April 18 and a 2-0 loss to Madison at home. Gordon was charged with the loss in both games despite allowing three earned runs over twelve innings. He had just two strikeouts at Springfield – Gordon's season-low in Appleton. He had eight punchouts against Madison while giving up just one run.
Appleton's offense made up for the lack of support and Gordon earned his first Midwest League win at Kenosha on April 30. He worked 6-2/3 innings, struck out seven and gave up three runs – two earned – as the Foxes won 12-5.
Tom Gordon's Starts in April, 1988
| DATE | OPPONENT | DEC | IP | H | R | ER | BB | SO |
| --- | --- | --- | --- | --- | --- | --- | --- | --- |
| 4/8 | @Wausau | ND | 4.0 | 3 | 0 | 0 | 2 | 7 |
| 4/13 | Peoria | ND | 5.0 | 1 | 0 | 0 | 1 | 11 |
| 4/18 | @Springfield | Loss | 6.0 | 4 | 3 | 2 | 3 | 2 |
| 4/25 | Madison | Loss | 6.0 | 4 | 1 | 1 | 2 | 8 |
| 4/30 | @Kenosha | Win | 6.2 | 6 | 3 | 2 | 1 | 7 |
| | | 1-2 | 27.2 | 18 | 7 | 5 | 9 | 35 |
That result launched Gordon on a four start stretch in May that leaves an observer looking back at just the numbers leave one amazed.
It all started at Goodland Field against Beloit on May 5. Gordon allowed one run on three hits with four walks and seventeen strikeouts for a no decision. He had a 1-0 lead going into the top of the ninth inning, but David Nilsson had an RBI triple to tie the game. Terry Shumpert won the game with an RBI double in the bottom of the seventeenth inning for a 5-4 Foxes win.
Gordon was understated in his comments to Dan Vanderpas of The Post-Crescent after the game.
"I had a pretty good night. I threw the ball well. I felt good," Gordon said. "My fastball was my best pitch tonight – high 80s, lower 90s. A game like this feels good because you had a good outing but I wanted to win. The thing I was looking for was to go out there and improve."
The win followed in his next start. He pitched a nine-inning complete game against Quad Cities on May 11 in front of 2,646 fans at Goodland Field. Once again, Gordon allowed just one run in the game. Plus, he added eleven strikeouts in a 6-1 victory.
"I'm not hurting, but some days you just don't feel your best. I didn't feel my best, but I do see this as one of my better (pitching) days," Gordon told Vanderpas. "The fastball worked real good for me tonight. That's the ball that struck out most of the guys. It wasn't the fastball I'm used to having. I had to work on it. I had to think to win. I had to think a little better than they did. That's basically what I did."
On May 16, Gordon made another start at home and pitched nine more innings to defat Burlington 3-1. This time out the youngster from Florida scattered six hits, allowed one run, walked two, and struck out sixteen for a complete game on 127 pitches in just over two hours as a birthday present for fellow Foxes pitcher Tim Odom and his manager.
"The more they hit the ball, the better I felt. It was just my team helping me and me helping my team," said Gordon. "you can do a lot with A3 run lead because they've got to play catch up in baseball three runs is not a lot but if you've got a good pitcher on the mound you can fairly get by most teams."
Poldberg fielded a question about how much longer Gordon would be in Appleton while snacking on some birthday cake in the clubhouse after the game.
"We haven't had too many quick games lately, but when Tommy comes out there and you score a couple of runs you have a good chance of winning the game," said the Foxes skipper. "Right now (to be called up), it's just a matter of him getting command of himself because the higher up he goes a lot of the hitters will be taking the high fastballs that the younger hitters are swinging at."
The final start in this stretch was a legendary appearance. It was in Waterloo, Iowa on May 21. Gordon gave up one hit, walked three, and struck out NINETEEN over seven scoreless innings. The only thing wrong with this night was that the Foxes bullpen blew a 3-0 lead. Waterloo scored five runs in the bottom of the eighth and held on for a 5-4 win.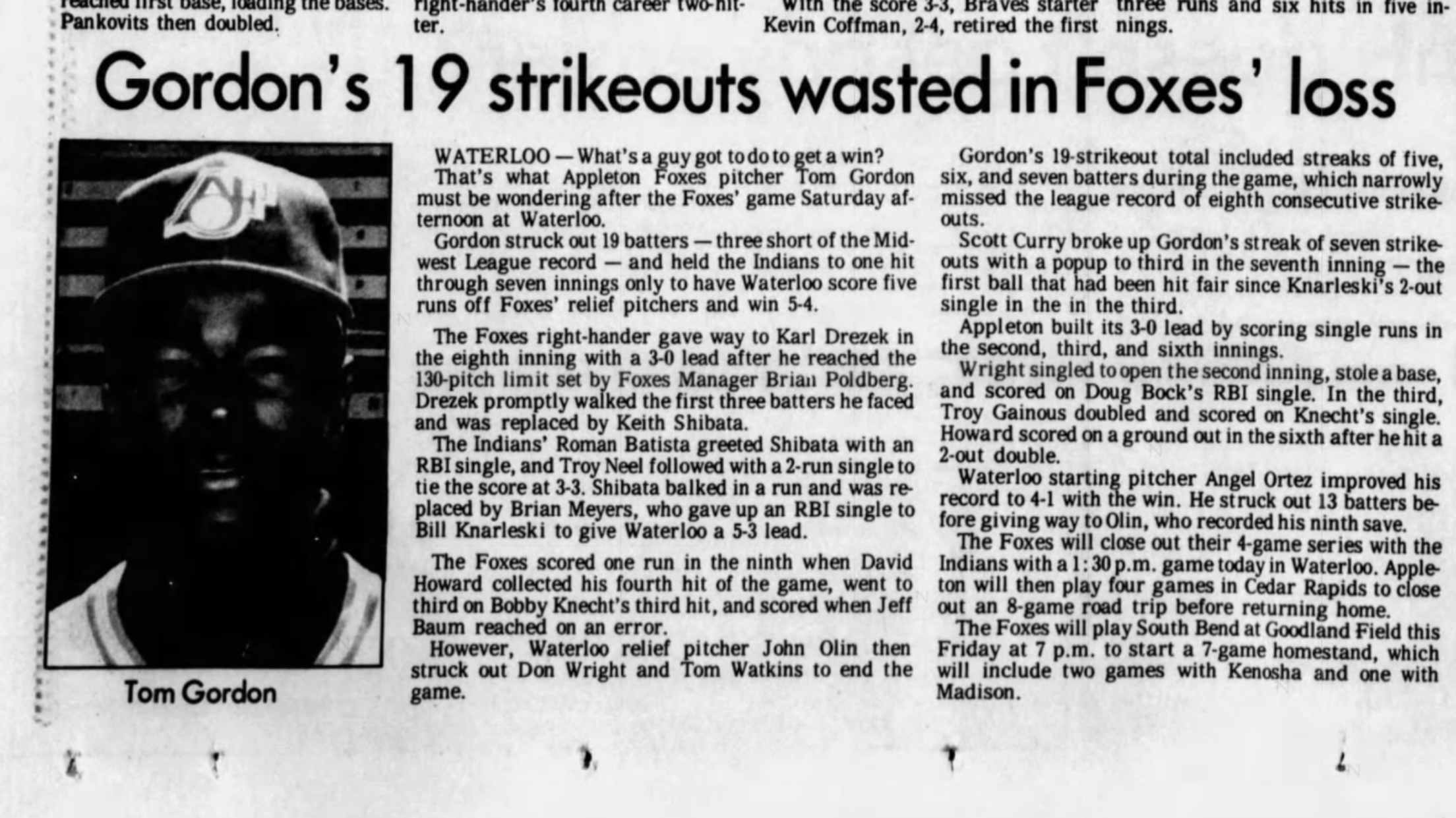 Gordon had three impressive strikeout streaks – five in a row, six in a row, and seven in a row – during his seven innings. The only hit off Gordon was a single in the fourth inning. Waterloo put just three balls in fair territory against Gordon.
Russ L. Smith of the Waterloo Courier wondered why Gordon came out of the game and Poldberg had the answer.
"You got a young kid like that, you've got to protect his arm," said Poldberg. "He has an embargo of 130 pitches in a game and he had 125 after the seventh. There's no use starting him out to throw five pitches in the eighth."
The month of May ended with a no decision and a loss for Gordon. He allowed six runs in 4-1/3 innings at Cedar Rapids on May 26 and was uncharacteristically wild with five walks and five strikeouts in that game. Then, he lost to Kenosha on May 31 at home despite allowing three runs over six innings.
In May, Gordon pitched 44-1/3 innings and recorded 74 strikeouts against just 20 walks.
Tom Gordon's Starts in May, 1988
| DATE | OPPONENT | DEC | IP | H | R | ER | BB | SO |
| --- | --- | --- | --- | --- | --- | --- | --- | --- |
| 5/5 | Beloit | ND | 9.0 | 3 | 1 | 1 | 4 | 17 |
| 5/11 | Quad Cities | Win | 9.0 | 5 | 1 | 1 | 2 | 11 |
| 5/16 | Burlington | Wiin | 9.0 | 6 | 1 | 1 | 2 | 16 |
| 5/21 | @Waterloo | ND | 7.0 | 1 | 0 | 0 | 3 | 19 |
| 5/26 | @Cedar Rapids | ND | 4.1 | 5 | 6 | 6 | 5 | 5 |
| 5/31 | Kenosha | Loss | 6.0 | 5 | 3 | 3 | 4 | 6 |
| | | 2-1 | 44.1 | 25 | 12 | 12 | 20 | 74 |
In June, Gordon made six starts and he was 4-0 in his first four. The first of that quartet was his first nine-inning, complete-game shutout with the Foxes.
Riverview Stadium in Clinton, Iowa was the site. June 5 was the date. Gordon allowed two hits, walked four, and struck out twelve in a 7-1 win.
Less that a week later, the Clinton Giants made the trip to Goodland Field. Gordon allowed one run with no walks and eleven strikeouts on June 10 for another complete game despite not feeling like he would be able to do much before the game.
"I was weak tonight," said Gordon. "I just felt weak. I just didn't feel like it was my night to pitch."
"He didn't have the great fastball early in the game and he went to his curveball a little more than I would have liked him to," said Poldberg. "But he knew he didn't have his best pitch, so he went to his next best pitch and that's the curveball."
Next up for Gordon was a start at South Bend on June 15. This was another win for Gordon as he allowed two runs on three hits with a walk and ten strikeouts in seven innings. While not as dominant as his previous two starts, this one impressed White Sox manager Steve Dillard.
"I've been wanting to see him," Dillard told Curt Rallo of the South Bend Tribune. "I know he signed two years ago and I heard he threw in the middle 90s. But now he's got a curve and that might be his best pitch. He didn't strike a guy out until the third inning and he ended up with ten. We were overmatched."
The final game in this four-start winning streak was on June 20 against Beloit at Goodland Field. Gordon should have had six scoreless innings to go along with his seven strikeouts. However, Bobby Knecht, an infielder moved to the outfield after an injury to starting left fielder Mike Gassman, couldn't find a flyball – as he said – "against that bright, blue sky" with two runners on and two outs. The routine ball dropped in and by the time it was retrieved the Brewers had a three-run, inside-the-park home run to cut Appleton's 4-0 lead to a single run.
The bullpen preserved the win for Gordon with two scoreless innings from Doug Nelson and a scoreless ninth from Brian McCormack to send Gordon's record to 7-3 and 3,509 Foxes faithful home happy.
Gordon's final two starts with Appleton were both losses, but the offense scored two runs total. South Bend won 5-2 at Goodland on June 25 and Burlington won 2-0 in Iowa on June 30.
The loss to the Burlington Braves was no fault of Gordon's. He pitched eight innings, walked one, allowed two runs – one earned, and gave up five hits while striking out fourteen. The Foxes offense managed just three hits.
Tom Gordon's Starts in June, 1988
| DATE | OPPONENT | DEC | IP | H | R | ER | BB | SO |
| --- | --- | --- | --- | --- | --- | --- | --- | --- |
| 6/5 | @Clinton | Win | 9.0 | 2 | 0 | 0 | 4 | 12 |
| 6/10 | Clinton | Win | 9.0 | 6 | 1 | 1 | 0 | 11 |
| 6/15 | @South Bend | Win | 7.0 | 3 | 2 | 2 | 1 | 10 |
| 6/20 | Beloit | Win | 6.0 | 4 | 3 | 3 | 3 | 7 |
| 6/25 | South Bend | Loss | 7.0 | 5 | 3 | 3 | 5 | 9 |
| 6/30 | @Burlington | Loss | 8.0 | 5 | 2 | 1 | 1 | 14 |
| | | 4-2 | 46.0 | 25 | 11 | 10 | 14 | 63 |
John Boles, the Director of Minor League Operations for the Royals, was asked about Gordon's future for an article in the July 3 edition of The Post-Crescent. Boles was very direct in his response.
"Tommy Gordon is going to pitch in the major leagues. No doubt about it. He's one of the best prospects in minor league baseball, but that doesn't mean he's going to be going to be moving anywhere soon."
That last part from Boles is the only thing wrong in his quote.
Gordon missed his next Foxes start due to a strained leg muscle. Then, on July 12, he was added to the roster of the Memphis Chicks, Kansas City's Double-A affiliate. Six starts and 62 strikeouts later, Gordon was promoted to Omaha in Triple-A.
Despite being almost 6-1/2 years younger than the league average of the American Association, Gordon was not intimidated. He was 3-0 in three starts, allowed three runs, and had 29 strikeouts.
In an August 28 article in the Kansas City Star, Gordon talks with Jack Etkin about his whirlwind of a 1988, "I wake up sometimes," he admits, " and say, 'I can't believe I'm in Omaha.' People say, 'Can Tom Gordon make it to the big leagues this year?' It seems like it's a dream. It's unbelievable. There can't be too many people at 20 who've moved from A ball to Triple-A and are being thought about to play in the big leagues."
The call came after Omaha's season ended and Gordon would make his MLB debut in relief of Brett Saberhagen on Sept 9 in Kansas City against the Oakland Athletics. He pitched two perfect innings on 23 pitches, including a three-pitch strikeout of Jose Canseco.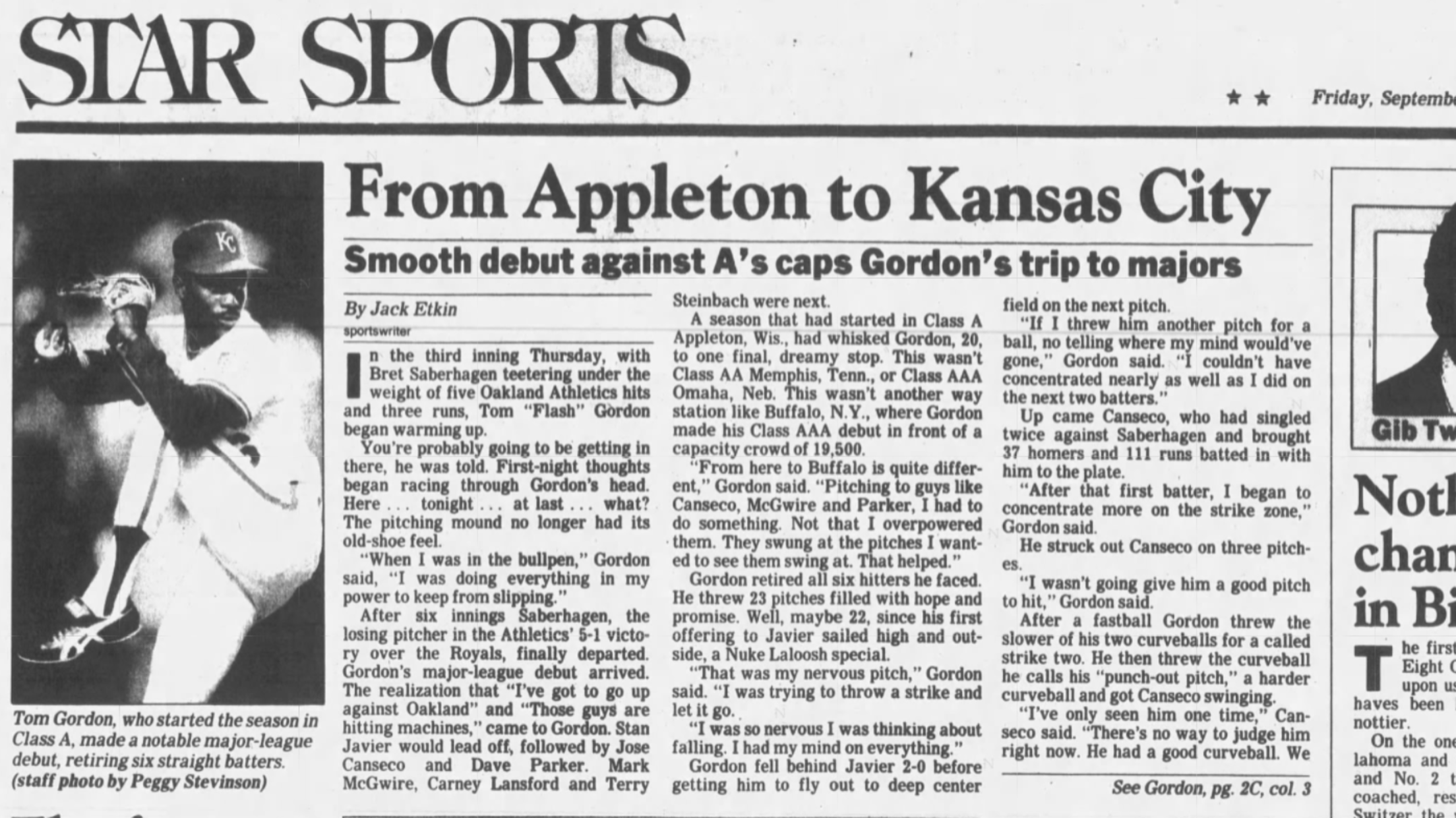 Dave Parker, who popped out against Gordon in the game, was informed that Gordon was just twenty and he responded, "If he's that young, that's an advantage. This guy's got a good idea of what he wants to do from what I saw tonight. I was impressed with him."
He wasn't the only person impressed with Tom Gordon. Baseball America named Gordon their Minor League Player of the Year for 1988.
What a year! And it all started for Gordon with the Appleton Foxes.
Previous Articles for Black History Month 2022:
February 1: Top 5
February 8: Ervin Lee Ford
February 15: Deacon Jones & Bernie Smith Make History