Here is a link to the original story on the team's website.
In celebration of Black History Month, throughout February, teams across Minor League Baseball are taking a look back at five of the best Black players to suit up for their club.
While some of these standout performers went on to long and illustrious Major League careers, others simply had great Minor League careers or, in some cases, just one incredible season that went down as "a year for the ages."
After taking a look back at the careers of four of the greatest Black players in Curve history, we wrap up Black History Month by diving into the career of first baseman Josh Bell.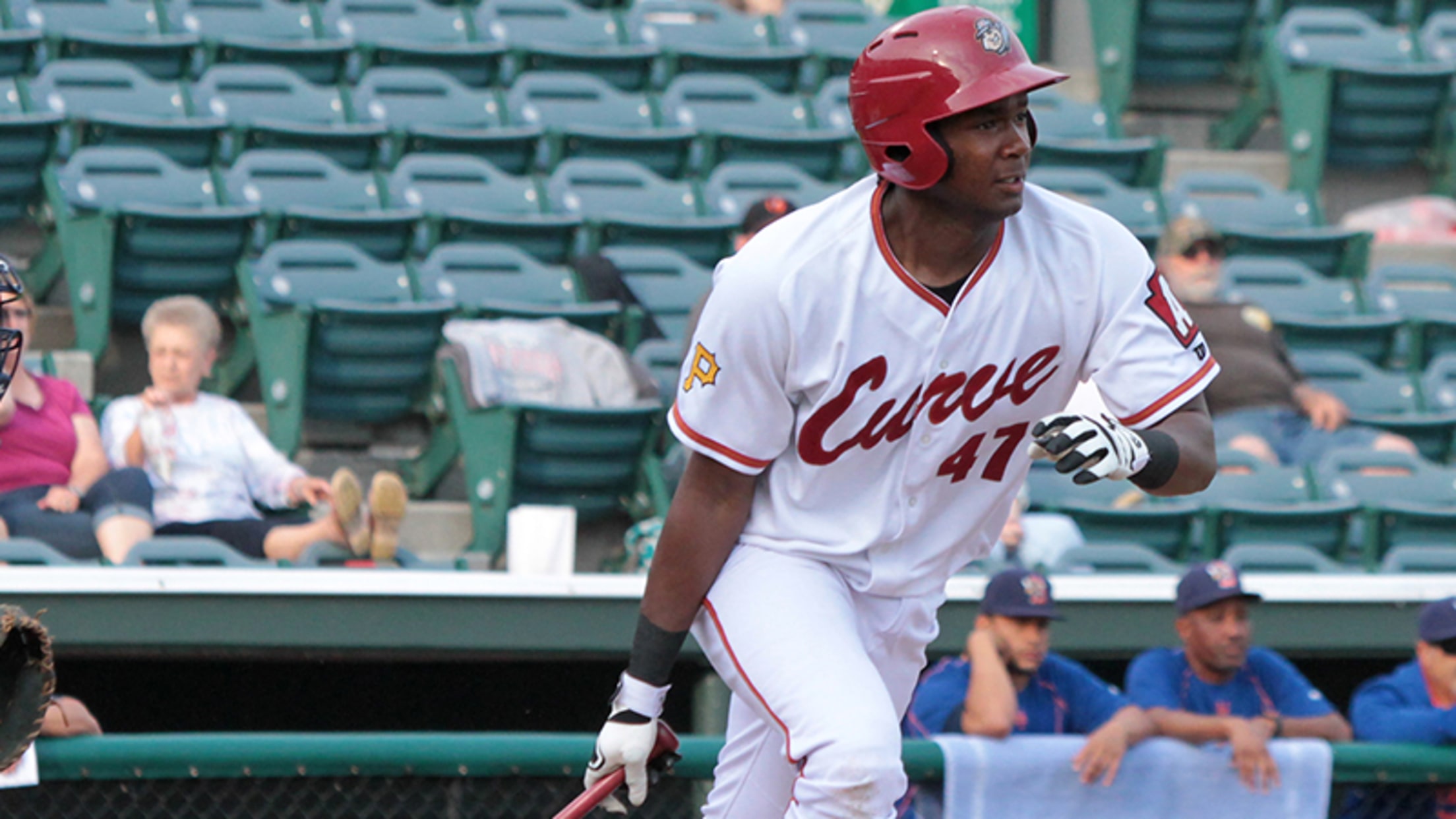 1B Josh Bell (2015)
A native of Irving, Texas, first baseman Josh Bell roared through the Pirates minor league system and quickly established himself as one of the top power hitters in the National League.
Selected by the Pirates in the second round (61st overall) of the 2011 draft, Bell quickly emerged as one of the top prospects in the Pirates minor league system and in his first full season of professional baseball was named a South Atlantic League Mid-Season and Post-Season All-Star with the West Virginia Power. Bell batted .279 with a league-best 37 doubles, two triples, 13 home runs and 52 runs batted in to lead the Power to a Northern Division title and an 82-58 record under future Curve Manager Michael Ryan.
Bell began his 2014 campaign at High-A Bradenton and immediately established himself as one of the leagues best. In a league that was notoriously difficult for young power hitters, Bell grew his game at the plate and found a more contact-oriented approach that led to a third-place finish in batting average (.335) and a 13th place finish in on-base percentage (.385) to go with 20 doubles, four triples ad nine home runs. Named a Mid-Season Florida State League All-Star, Bell earned a late-season promotion to Altoona and batted .284 with seven runs batted in in 24 games. For his outstanding efforts, Bell was named the Pirates Minor League Player of the Year, an award he would claim a second time in 2016.
The 2015 Curve opened the season with high expectations as Bell, Tyler Glassnow, Chad Kuhl and Adam Frazier highlighted the star-studded group. Bell, a consensus top-60 prospect in minor league baseball according to multiple outlets, starred in the middle of the order. At age 22, Bell put together another All-Star worthy campaign, earning a selection to the Eastern League's Mid-Season All-Star team, hosted bt the Portland Sea Dogs at Hadlock Field. Bell would also earn a spot in the Futures Game; played in Cincinnati. His 2015 season in Altoona found its way into the record books with a .307 average, the best mark in a single season in franchise history by a switch-hitter. Teaming with Adam Frazier, the Curve had two players bat .300 during the season (minimum 300 plate appearances) for just the fourth time in franchise history. While Bell became one of 12 Curve players to earn a promotion to Triple-A Indianapolis during the season, Altoona reached the postseason for the first time since 2010. Under the direction of Manager Tom Prince, Bowie eliminated Altoona in four games, capping off a season in which the Curve had its highest attendance total in nine seasons. The campaign earned the Eastern League's nomination for the John H. Johnson President's Award, the top honor in Minor League Baseball.
After spending much of the 2016 season in Triple-A, Bell reached Pittsburgh to make his major league debut. That season saw 14 different Curve alumni make their MLB debut including Alen Hanson, Jameson Taillon, Jacob Stallings, Adam Frazier, Chad Kuhl, Steven Brault, Tyler Glasnow, and Max Moroff all debuting with Pittsburgh. Bell made his debut on Friday, July 8, 2016 in an 8-4 win over the Chicago Cubs with a pinch-hit single off Jake Arrieta in the bottom of the seventh inning. Bell would go on to play 45 games in his rookie season with Pittsburgh, batting .273 with a .368 on-base percentage and three home runs.
Bell grew into the starting role in 2017 and blossomed into the one of the National League's best young players. At just 24 years old, he swatted 26 home runs, good for second-most among NL rookies and his steady presence in the middle of the Pirates order helped him drive in 90 runs and earn a third-place finish in the NL Rookie of the Year voting. Bell's 24th home run of the season set the record for most home runs by a rookie switch hitter in major league history.
After managing just 12 home runs in the 2018 season, Bell found his stroke in 2019 and capitalized on his massive power potential. Bell became the fourth player in PNC Park history to hit a ball directly into the Allegheny River on May 8. Just two weeks later he hit another home run into the river as part of dazzling month at the plate. Bell earned the National League Player of the Month in May of 2019 after hitting .390/.442/.797 with 12 doubles, 12 home runs, 31 runs batted in and 11 walks in 29 games played. Bell became the third player in NL history to log at least 12 doubles and 12 home runs in a single calendar month, joining Hall of Famers Hank Aaron (July 1961) and Frank Robinson (July 1961). Bell's month of May also saw him record three multi-homer games, the first Pirate to do so since Brian Giles in August 1999.
Bell was named to his first Major League All-Star Game in the summer of 2019. Leading the league with 70 runs batted in and in extra base hits with 54, Bell became the first Pirates first baseman to be named an All-Star since Jason Thompson in 1982.
While the Pirates sagged in the standings, Bell managed to put the finishing touches on an outstanding campaign in 2019. He finished the season ninth in the league with 37 home runs and sixth in the league with 116 runs batted in. Overall, he hit .277/.367/.569 with 37 doubles, three triples and a .936 OPS which ranked tenth-best in the league.
Following a down 2020 season, the Washington Nationals acquired Bell in exchange for RHP Wil Crowe and RHP Eddy Yean and he bounced back with 27 home runs and a .260 average in his first season with the Nats. Through six major league seasons, Bell has hit 113 home runs and holds a .261 career batting average.