Here is a link to the original story on the team's website.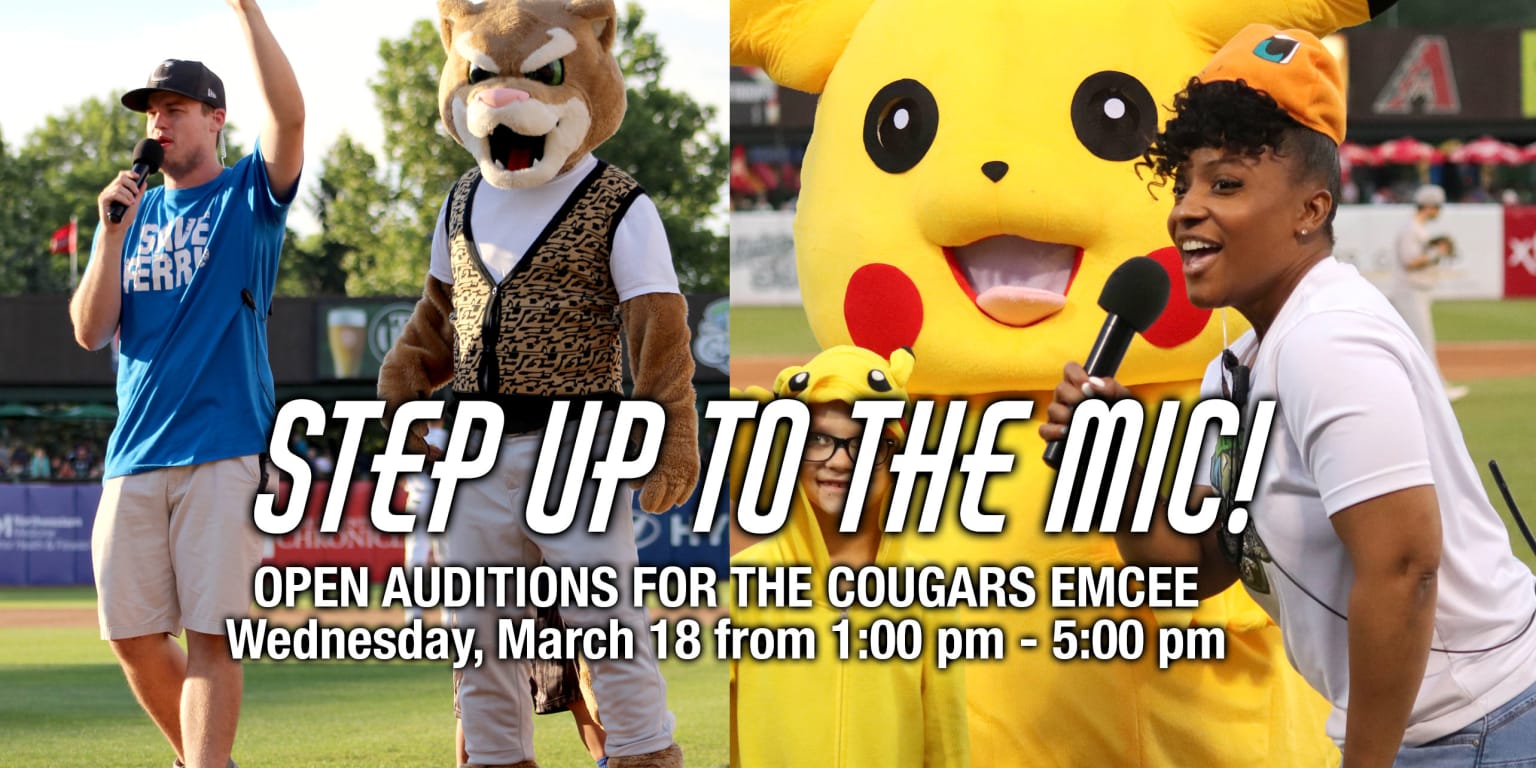 GENEVA, Ill. – The Kane County Cougars are seeking an energetic and outgoing personality to serve as part of the fan experience at Northwestern Medicine Field this season. An essential part of the game day staff, the on-field emcee works hand in hand with the Cougar Crew promotional team to enhance the atmosphere during games.
Open auditions for the on-field emcee will be held on Wednesday, March 18 from 1-5 PM at Northwestern Medicine Field (34W002 Cherry Lane). Those interested are encouraged to call the front office at 630-232-8811 to schedule their audition time.
All emcee candidates must submit a resume as a part of their audition process. Materials may be emailed to Caela at [email protected] or provided at the audition. Candidates must be at least 18 years or older and must be able to attend all 70 Cougars home games.
Those auditioning will be judged on their voice strength, on-field presence and energy level. Candidates must be able to gain access to all areas of the ballpark quickly and safely while standing for long periods of time with the ability to lift up to 35 pounds.Various requests during the audition will include acting out on-field promotions, including an explanation of the promotion to fans, introducing contestants and commentary when necessary.
Opening Night for the Cougars is Thursday, April 9 against the Cedar Rapids Kernels at 6:30 PM. The first 1,500 fans will receive an Opening Night cap, courtesy of Northwestern Medicine. Thirsty Thursday specials, presented by Miller Lite, will also be available with $1 beers, sodas, and $2 hot dogs.
Single-game tickets, ticket packages and group outings for the 2020 season are on sale now at www.kccougars.com. Tickets can also be purchased by calling 630-232-8811 or visiting the box office at Northwestern Medicine Field.
For updates on the Cougars 2019 season, follow us on Facebook, Twitter and Instagram.
About the Kane County Cougars
The Cougars, Class-A Minor League affiliate of the Arizona Diamondbacks, have been at the forefront of family-friendly entertainment since 1991. In 2015, the franchise became the first Class-A team in Minor League Baseball history to welcome 11 million fans through the gates. A total of 171 former Cougars have reached the Major Leagues including Miguel Cabrera, Nelson Cruz, Josh Beckett, Adrian Gonzalez and Kyle Schwarber.
***