Here is a link to the original story on the team's website.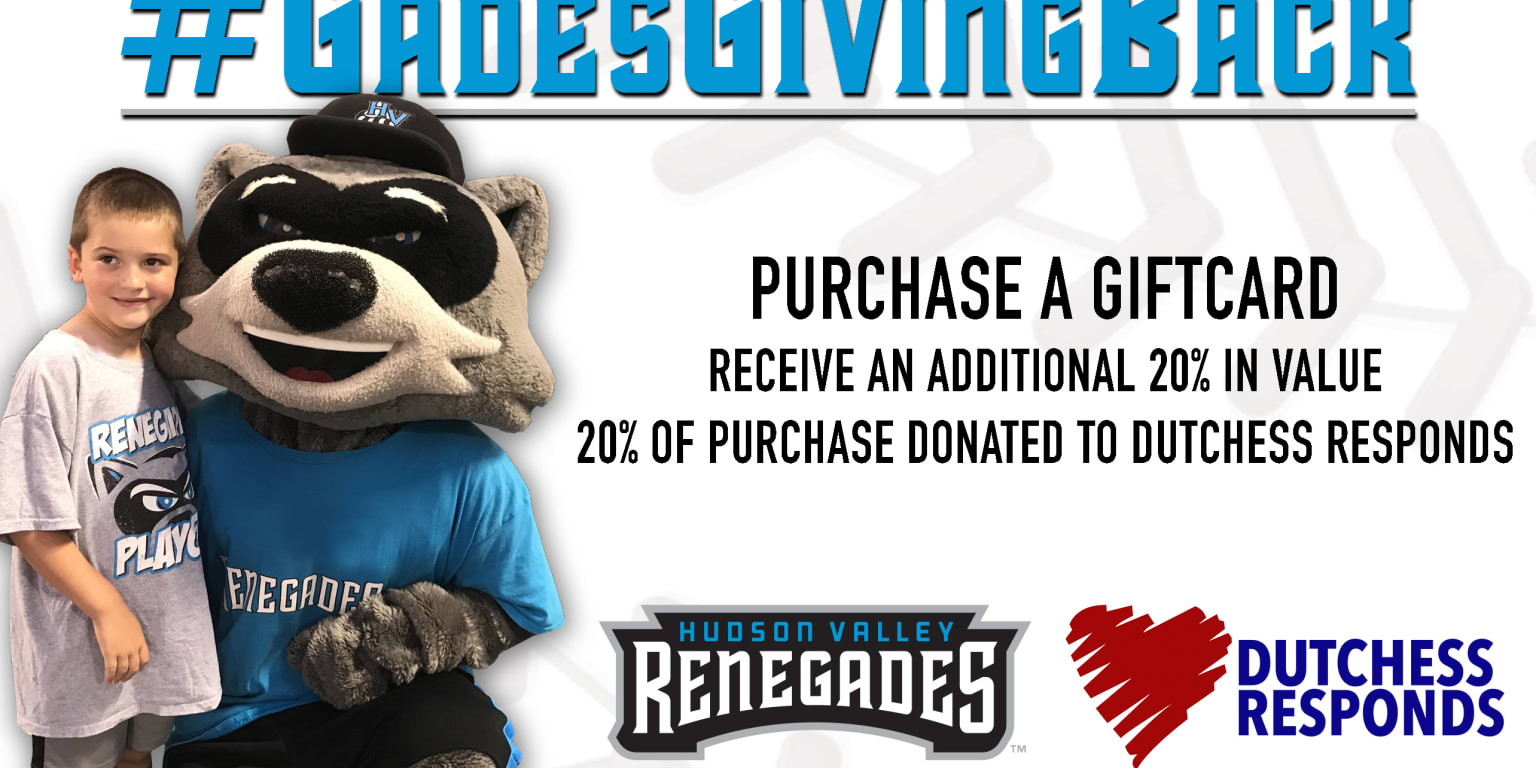 Renegades focus on community-based sales, to assist the Hudson Valley during COVID-19 pandemic.
WAPPINGERS FALLS, NY – The Hudson Valley Renegades, Short Season Class-A affiliate of the Tampa Bay Rays, announce in response to the global COVID-19 pandemic and it's rippling effects on the local community an initiative to give back to local non-profits.
The Hudson Valley Renegades are here for you, whether it's safe at home, or at The Dutch, we want to make sure we are doing our part in helping our community during this time. We have implemented our #GadesGivingBack initiative to donate a portion of profits from ticket sales, gift cards and food and beverage back to the community.
"As a small business ourselves, our organization and employees feel the hardships being felt by many in the Hudson Valley area and throughout our country," said Renegades President/General Manager Steve Gliner. "The Renegades have always worked hard to put our fans and community first and this is more important now than ever! Through our #GadesGivingBack initiative, we hope to rally our fans and community and give back to local organizations that directly assist those in need. This season is dedicated to YOU, and we hope that you will help us support those most affected by the COVID-19 pandemic."
Our first #GadesGivingBack initiative can be supported through purchasing gift cards that you can use now, or save for later. These gift cards can be purchased for either $25, $50 or $100, with fans receiving an additional 20% value to spend on anything at Dutchess Stadium during Renegades games this summer, and 20% of each sale will be donated to Dutchess Responds. These gift cards are available for purchase now through the entire 2020 season and can be used into the 2021 season.
The breakdown of purchasing gift cards is as follows:
Purchase (You Pay): $20 Gift Card Value: $30 Donated to Charity: $5
Purchase (You Pay): $50 Gift Card Value: $60 Donated to Charity: $10
Purchase (You Pay): $100 Gift Card Value: $120 Donated to Charity: $20
The purpose of Dutchess Responds is to provide critical needs such as food, medications and household essentials to individuals experiencing hardships or quarantine restrictions as a result of the Covid-19 virus emergency. Community leaders, in conjunction with Dutchess County government have established the Dutchess Responds fund at Community Foundations of the Hudson Valley.
The next #GadesGivingBack initiative will be when single game tickets go on-sale, which will go live on Saturday, April 11 for online purchases only at hvrenegades.com. The first week, Saturday, April 11 through Saturday, April 18, $2 from each ticket purchased will be donated to a charity.
In 2019 the Renegades donated over $170,000 in in-kind donations to hundreds of organizations throughout the community. One of the most successful ways of generating money for organizations was through the Renegades Fundraiser Program. The program allows a group the ability to choose the Sunday through Thursday game they want to attend, the Renegades will set-up an online portal for individuals to purchase. Each package is $13, and includes a General Admission ticket, Gades Group Hat and a $5 donation back to your organization. If this is something your group is interested in participating in please email Tyson at [email protected] with the Subject: Host A Fundraiser.
The Renegades will choose a new non-profit for each community outreach initiative that is rolled out, making sure to reach not just those in Dutchess County but all of our fans in the Greater Hudson Valley Region.
###